Meet Allan Langer, who joined us in March 2015.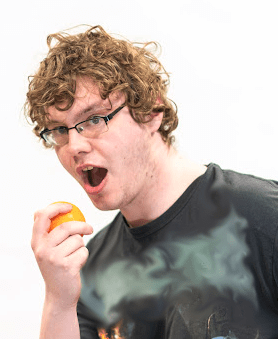 What do you do at the Real Food Kitchen?
I am the AM Production Supervisor of our morning shift. Supervising the Pack, Cook, Bake and Sanitation teams isn't without its challenges for getting everything ready for our clients to enjoy. 
Dealing with the interpersonal issues of the teams is also another challenge. Everyday is a new adventure that I can't want to conquer.
What do you love about working at RFRK?
I love our work atmosphere and our mission statement. Each day isn't boring and brings new growth and exciting opportunities.
There's also the ability to grow, I started on the Set-up team then moved over to packing Special Meals, then to team lead to Supervisor. I don't see that happening in any other company.
If you were a superhero, who would you be?
I'd be the original Blue Beatle, Ted Koreg. He got the Gift of god's that he dosen't know how to use. Which much like myself is finding a better way to get the job done. He also has a wicked sense of humor to save the day. Which I strongly believe in.
What's your favourite Real Food recipe? 
The Beef Burger which also has mushrooms in it. As a  primarily meat eater I was against this from the off set. But it is such a tasty burger that I look forward to it everytime. It's changed my whole world view.
What types of activities do you enjoy outside of work? 
I collect blu-rays, dvds, scripts and other film stuff.  I love going to art museums, and I love watching stand-up comedy.
Do you wish you could play an active part in feeding kids healthy, nutritious & delicious food?
Learn more about RFRK and our growing team today!