Meet Khadija Jaffer, who joined RFRK in September 2020.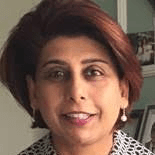 What do you do at The Real Food Kitchen? I am the Finance & Accounting Manager. I lead a wonderful team of professional, dedicated and conscientious staff of 2.
I manage day-to-day accounting operations including implementation of cost accounting standards, financial reporting and cash flow management. I provide business partners with timely insights and guidance to make informed decisions. I motivate and mentor direct reports and ensure their contributions impact the overall success of the organization and their professional development. I also assist the Strategic Leadership Team to implement risk management methods and lead a cultural shift toward greater standardization of processes.
What do you love about working for RFRK?
I love RFRK's mission and culture. They are a unique and entrepreneurial organization.
If you were a superhero, who would you be?
Wonder Woman
What's your favourite Real Food recipe?
The Beef & Mushroom Burgers!
Do you wish you could play an active part in feeding kids real, nutritious, delicious food?
Learn more about RFRK and our growing team today!