We take allergies and dietary requirements very seriously.
So in honour of Food Allergy Awareness Month, we're sharing some of the in-depth processes we put in place to ensure the safety of the kids we feed, while still focusing on the nutrition and health of children with unique dietary needs.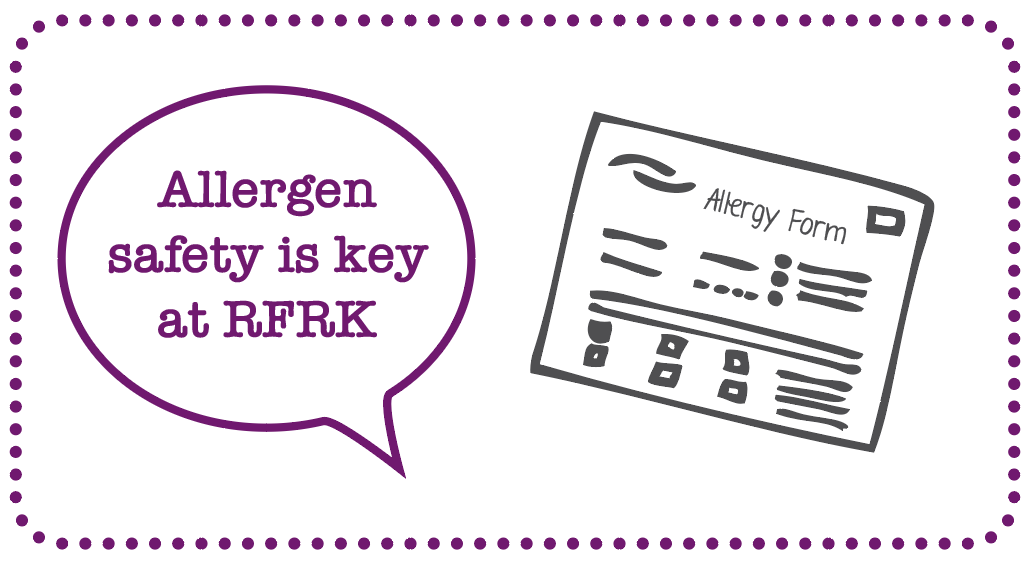 Our facility is free of peanuts, tree nuts & shellfish (with restrictions around sesame).
We track each ingredient in every one of our hundreds of recipes.
Our menu planning team creates a variety of alternatives for each snack or lunch item. Many of our substitutes are cooked from scratch by our production team, or procured in alignment with our Real Food Promise.
Through our Allergy Forms, centres can select common allergens like egg, dairy, gluten, etc. Or they can tell us about a specific ingredient that is causing a reaction.
Our custom database reviews each snack & lunch, then matches kids with the most safe and appropriate RFRK-designed alternative when they need it.
We send our partners a monthly Summary of Dietary Restrictions for each child who requires alternatives so they know when to expect them.
Kids receive an individually portioned alternative for the part of the meal they are restricted from. It will be labelled with their name, the meal it's required for and date, and will match their Summary of Dietary Restrictions.
Alternatives are generally similar to the planned menu, but we sometimes create or find an alternative that looks or tastes different but provides the best variety, pairing or nutritional value for each child.
If centres are ever unsure of an allergy, supporting a child with a dietary medical condition or a new allergy presents suddenly, partners can contact us and we'll support them while we update our database and get everything on track.
Along with individual needs, we also recognize centre-wide restrictions with No Fish & No Egg services being the most common. But items like kiwi or coconuts, along with others, are accommodated as well.
Do you have a child with complex allergies? How do you manage them? Comment below!