Meet Prabakaran Kathirsamar, who's been cooking with us since May 2006! He's part of what we affectionately call the "Original 5", a group of talented cooks that started with us in our early days.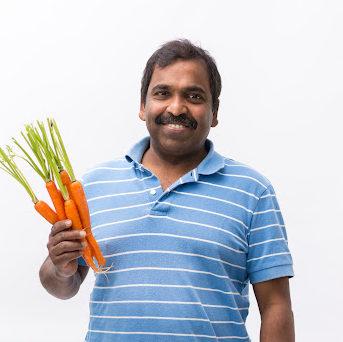 What do you do at the Real Food Kitchen?
I cook. I can do all the recipes, but I mostly do dips, salsas, and sauces. Since we make sauces in small batches, it does get hard when we have to make more than one batch. Some days we have a lot to do while other days are smoother. My favourite sauce to make (and have) is definitely the Maple Samurai Sauce!
What do you love about working for RFK?
A flexible work environment and good people. All my coworkers are friendly, happy, and have very good energy to be around. I have been here for 15 years and I'm still here because I love the people!
If you were a superhero, who would you be?
My superhero is my dad because he encourages our family to do our best and be happy all the time.
What's your favourite Real Food recipe? 
I love the Madagascar Chicken because I helped out with making the recipe and it is still my favourite to this day! The marinade contains 14 different herbs and spices so it is more difficult to prepare, but it is totally worth it!
Do you wish you could play an active part in feeding families real, nutritious, delicious food?
Learn more about RFRK and our growing team today!