Meet Yogan Vigneswaramoorthy, who's been cooking with us for well over a decade! He's part of what we affectionately call the "Original 5", a group of talented cooks that started with us in our early days. Without his expertise, the Real Food Kitchen recipes wouldn't be as delicious as they are today.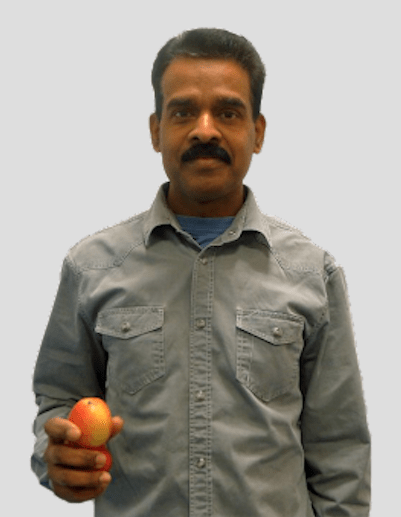 What do you do at the Real Food Kitchen?
I'm a Cook Team Member, and I'm in charge of Special Meals. These meals are made specifically for kids who require an alternative to what other kids are being served, due to allergies or dietary restrictions. Typically they are made in separate smaller batches and require careful portioning. In a given shift there could be over 1000 special meals portioned.
What do you love about working for RFK?
David (our CEO), we've had a 15 year relationship.
If you were a superhero, who would you be?
I don't have a favourite superhero, but I have a favourite superstar, Rajinikanth – an Indian actor who has appeared in over 160 films, mostly Tamil.
What's your favourite Real Food recipe?
Mumbai Chicken, officially. But unofficially, pre-Covid I used to make my own Jaffna Tamil Chicken Curry recipe for staff meals, and everyone loved it, even the people who were a bit challenged by the spiciness level! Maybe one day we'll see this recipe on the Real Food Kitchen menu for families to enjoy at home.
Do you wish you could play an active part in feeding families real, nutritious, delicious food?
Learn more about RFRK and our growing team today!